The holiday cookies are baked and the wreath's hanging on the door.
Sort of.
I've baked holiday cookies once, maybe twice in my life. It's not that I don't like holiday cookies. I love holiday cookies—at least most of them. Gingerbread men are cute, with icing outlining their chubby little feet and hands, even if you crack your teeth on those little silver balls. I adore butter cookies, especially shaped into wreaths. Even typing the words "Pecan Sandies" makes me drool. But if you stop by our house this month, you're not likely to be offered a plate of home-baked treats. As much as I'd like to have a stash on hand, I don't. And due in part to our lack of visitors—who "drops in on" friends anymore, especially in the city?—and in larger part to my lack of willpower in the combined presence of flour, butter, and sugar, I'd be all too likely to devour every last crumb myself.
So what can I offer you, my visitor, as a bit of reprieve from however many shopping days remain, from the noise and bustle, from the onslaught of distractions and duties, past-times and pleasures?
While I may not see you at my literal front door, I'm happy to welcome you here to a newly redesigned site. I've done some housekeeping this year, both on the site and off-line, with the help of wonderful website designer Ilsa Brink. I'm happy about – energized by – these changes and eager to share them with readers. Let's start with the brick-and-mortar, the tactile, the four walls.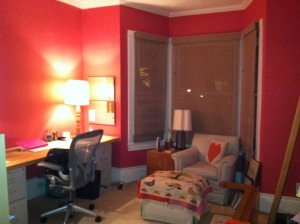 Is that a gorgeous color or what? Actually, the paint name is … Drop Dead Gorgeous, from Benjamin Moore. (Product placement folks, hello?) But here's the trick: I mixed it with another, pinker color called Vibrant Blush, in a decidedly un-cookie-baking way. That is, I didn't measure. I poured some Drop Dead Gorgeous into the paint pan, and then some Vibrant Blush, stirred them together with a balsa chopstick from a kitchen drawer, and rolled it on. When I ran out, I poured in more or less the same proportions as before.
(Brief aside here to address any concerns from my writers' group: Yes, I cleaned the walls and dusted along the molding and vacuumed with the extension hose where my duster couldn't reach. I taped the edges and laid down drop cloths and wore my painting pants and a ratty old shirt and clipped my hair out of my face. I wore disposable gloves and kept a rag nearby. I unscrewed the outlet plates and placed the screws into a Ziplok bag so I could find them again. I did not smear wet paint on my naked body, any part of it.
Why such a disclaimer? In late October, my writers' group met to discuss a draft of my novel, recently completed. In it, a character gets weird around paint. Sloppy. Careless. Inappropriate. Readers were concerned—about the mess, about her sanity. Didn't she tape? Clean up after herself? Nope.  She didn't.
But I did. And once the paint had dried, I waited another day and removed the blue tape, folded up the drop cloths, left the empty cans out on the deck to dry out. I touched up. I screwed in the outlet plates back in place, moved back the chairs and desk and table, and reordered the stacks of papers, of copies of Poets & Writers and Writer's Chronicle (a terrific piece by my friend and writers' groupie Audrey Ferber in the latest issue of the latter, btw), of story drafts. I threw out pages. I filed others—not in another stack but in a proper file folder, in a drawer.  It felt good.  I'd been wanting to do this for years, but one thing or another always got in the way.
And then I got back in touch Ilsa about refreshing my, uh, online presence. The site I'd commissioned for the 2007 publication of my memoir, The Water Will Hold You, had begun to feel dated. The family photos there made me cringe, as though I'd pimped family heirlooms. Yes, I'd chosen and placed them, but what seemed a sweet way to bring in the reader now felt icky.
When, in 2011, I began posting to the WordPress blog to which many of you subscribe (thank you!), I found it easier to add pages about teaching and  publishing news there rather than to the original site, which felt felt dustier than ever—and perhaps that's the real reason behind my queasiness at seeing online my mother's smile, my brother's grin. I hadn't just put up family photos; I'd left them there, as carelessly as if they'd gathered dust and began curling at the corners. I wanted them back in the leather-bound album, back in their frames, back where they belonged on my bedroom shelf.  And I wanted one site—not two—that I could update and change without having to call up the coders.
So here it is. Come in, poke around, explore. Let me know what you think. And while we're at it, with thanks to my cousin Mary, help yourself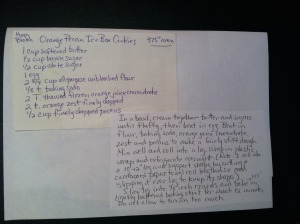 :